A Nice "Get Well" Gift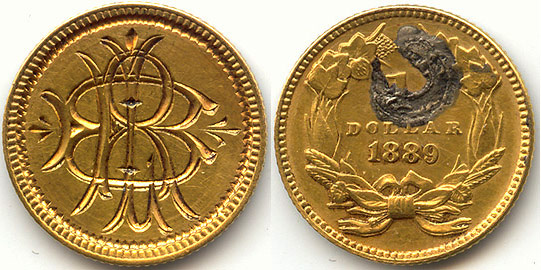 In July of 2004 I made an unexpected trip to the hospital and spent several days under coronary observation in the SCU. This love token, with the initials BLR, was given to me by my father several weeks later as a get-well gift. Dad has collected love tokens for many years, but this is the only one he has found with all three of my initials on it. It just happened to show up on eBay while I was in the hospital, so he placed a monstrous bid to secure it for me. Luckily there was not much competition for it.
The initials are engraved into a 1889 $1 US gold piece. At some point a pin had been soldered to the back, but that has broken off. Maybe I will have one put back on so that I can wear it as jewelry along with my bust dime buttons. It is quite fitting that the date is 1889, as that is the year South Dakota gained statehood. As you probably know, I have a great interest in South Dakota history and collect tokens and postal covers from both statehood and territorial eras.
It is now one of my treasured items, and I'm sure it will see me through whatever lies ahead for me.