Share on Facebook
American Jersey Cattle Club Gold Medal 1926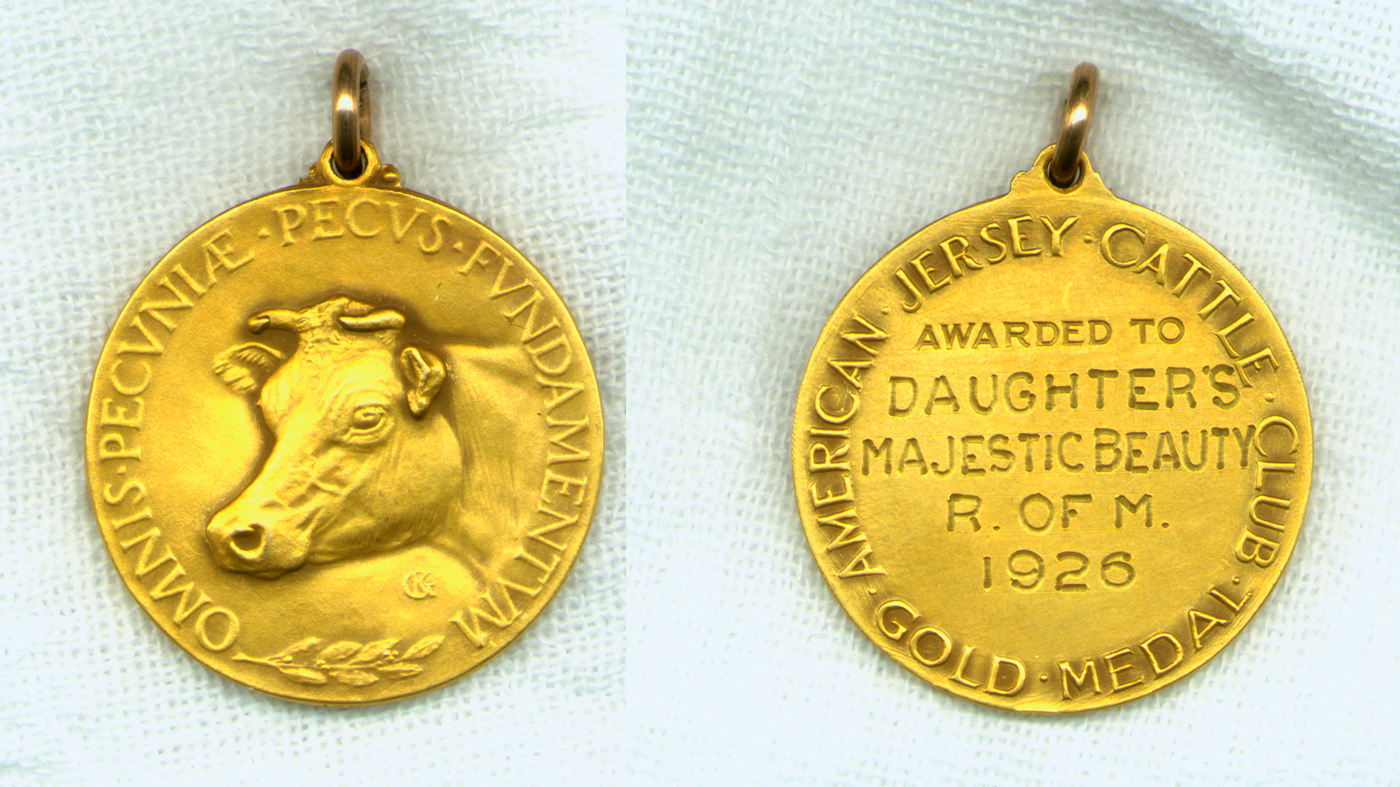 This is a 14-Karat gold medal designed by medalist Karl Gruppe for the the American Jersey Cattle Club. It is one inch in diameter not including the loop portion and weighs just over 9 grams and contains about one-sixth of an ounce fine gold. The medal depicts a jersey cow with the motto OMNIUS PECUNIAE PECUS FUNDAMENUM on the obverse which translates to "The herd is the foundation of all wealth." The reverse reads AMERICAN JERSEY CATTLE CLUB GOLD MEDAL and AWARDED TO as struck elements, with following hand engraved: DAUGHTER'S MAJESTIC BEAUTY R. OF M. 1926.
According to the records of the club, now American Jersey Cattle Association, it was awarded for exceptional production by an individual cow. This was the fifteenth year of the award. Daughter's Majestic Beauty is included on the Register of Merit #448927 (hence the R. OF M. inscription). She was out of a cow named The Miller's Daughter #299226 and sired by Nursie's Majesty #448927.
Her qualifying record was begun at seven years and six months of age during which she produced 12,310 pounds of milk averaging 5.13 percent butterfat, yielding 631 pounds butterfat. This record was completed on Class AAA, the highest category.
The cow was owned by A. W. Tuthill of Sioux Falls, SD. This was likely Arthur W. Tuthill, of the Tuthill Lumber Yards famous during the South Dakota pioneer era. The family used their resources to expand into a number of business pursuits.
This piece came to me from a $1 "junk box" of tokens at a Sioux Falls antique store in 1999.
A special thank you to Cherie Bayer, Ph. D. for supplying the AJCC records and information.